Facilitator and Group Process Consultant
Facilitation and Training Services
Are your meetings poorly attended, boring, nonproductive? Could your group's communication skills and decision-making processes use a boost? Does your community need help processing a difficult, emotional, or contentious issue? Eris Weaver can help!
Eris works with businesses and nonprofits to:
Design and facilitate meetings that get results
Provide graphic recording of your meeting or event
Analyze and resolve group conflicts
Provide training and/or coaching on facilitation techniques, collaborative decision-making, communication skills, and conflict resolution

Based in the San Francisco Bay Area, Eris is available to travel to other parts of the country.

Click here for a partial list of past clients.
Testimonials
"Eris has done a fantastic job for us: developing curriculum, training, facilitating and trouble shooting. She knows the discipline of organization development, does her homework before every engagement, and is extremely reliable. Through it all, she also manages to keep our groups entertained. She is a great person to call whether you need crisis intervention or already have a healthy group and are looking to take it to the next level."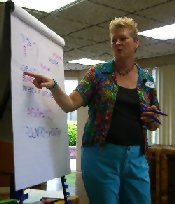 "Eris is excellent -- she is strong, funny, smart, and not afraid to call people on their b.s., if needed. She is intrepid. I don't think that conflict bothers her much, if at all."