Facilitator and Group Process Consultant
Biography
Profile of Eris by Inanna LaFevre
Eris Weaver is a facilitator, consultant, trainer, and public speaker known for her clarity, forthrightness, and humor.
Current and past clients include California Center for Cooperative Development; Junior League of Napa-Sonoma; Alvarado Street Bakery; Goldfarb Lipman LLP; Threshold Choir; A Home Away from Homelessness; Stanford University Libraries & Academic Information Resources; Cohousing Partners LLC; Affordable Housing Associates; American Medical Student Association; North Bay Industries; Unitarian Universalists of Petaluma; Resource Center for Nonprofits; Central Committee for Conscientious Objectors; Oak Creek Commons; Ukiah Valley Cohousing; and North Oakland Cohousing.  She is a member of the International Association of Facilitators and the International Forum of Visual Practitioners.
Eris holds Masters degrees in Public Health and Library & Information Studies, both from University of California at Berkeley. Her previous professional life included community organizing and coalition building in a number of regional public health projects; managing health sciences libraries; teaching at the community college and adult school level; and serving on the board of several nonprofits. She is a Fellow of the Leadership Institute for Ecology & the Economy.
Her most significant training ground for her work as a facilitator & communications consultant has been eleven years with FrogSong, a cohousing community in Cotati.  This community has successfully used consensus to purchase, design, and develop a $9 million mixed-use residential neighborhood; manage their ongoing Homeowners Association; and run the business they collectively own.
She became a facilitator because she has little patience for poorly run meetings – given how much of our work and community living time is spent in meetings, it is important that we make the best use of our precious time. A modest amount of time and attention devoted to meeting planning and good facilitation pays back with increased efficiency, a decrease in conflict, better decision-making, and greater group cohesiveness.
She is deeply committed to the use of consensus and other cooperative decision-making processes to improve life within our communities and the world at large.
Her other passions include sea kayaking, surfing, yoga, dance, and costuming.
Testimonials
"To watch skilled facilitating is a real treat - The respect with which people were heard and treated was heart warming."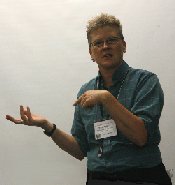 "Eris is excellent -- she is strong, funny, smart, and not afraid to call people on their b.s., if needed. She is intrepid. I don't think that conflict bothers her much, if at all."